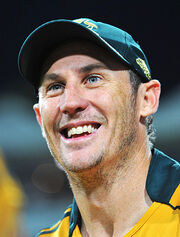 In 2004 Hussey played four one-day internationals (ODIs) for Australia A scoring a century against the West Indies.[1] In September 2007 David toured Pakistan with the Australia 'A' team, scoring two centuries on the tour. Hussey made his international Twenty20 debut for Australia against India at the MCG on 1 February 2008. Although he was not required to bat, he did take a wicket and a catch.
Hussey's international representative career continued with selection for the ODI tour of the West Indies in the Australian off-season of 2008. He made his debut at Basseterre on 4 July 2008 in the fourth ODI of the bilateral series against the West Indies and scored 52, involved in a 50 partnership with brother Michael. In the fifth ODI, he created a new record for Australia when he struck a half century off just 19 balls. Incidentally, earlier in the same match, wicket keeper Luke Ronchi scored his half century off just 21 balls only to see it eclipsed by Hussey minutes later.
On 28 August 2009, Hussey registered his maiden ODI century against Scotland getting 111 off 87 balls. Nevertheless, although he represented Australia in a number of T20 International matches during 2010,[4] Hussey did not play another one day international after scoring his century against Scotland until he was selected for the 1st ODI against England at the MCG on 16 January 2011.[5] During England's innings, Hussey took figures of 2/42 off six overs with the ball, but was not required to bat during Australia's successful run chase.[6] On 23 January 2011 in the third ODI match in a series against England, he scored 68* to take Australia to victory and a 3-0 series lead over England with four games to play. On 6 February 2011 he scored 60 in the 3rd ODI match against England as Australia completed a resounding 6-1 series win at the WACA in Perth.
Despite his exemplary first class average of 55.27 (as of the end of the 2010/11 season), Hussey has never been selected to play a Test Match for Australia. Outside of India, Hussey is the only batsman to average more than 54 at first class level, but never be selected for a test. Hussey bowling off spin in the Adelaide Oval nets.
In the 2011–2012 tri-series held in Australia against India and Sri Lanka, Hussey scored the third most runs between the three teams, making 439 runs with an average 54.88.[7]