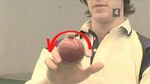 The basic grip for doosra is similar to that of the grip of a fast bowler. Put your first and third fingers at opposite side of the ball and the middle finger will itself get its position.
Take a long action with a high jump.
Releasing the ball
Edit
To leg-spin
Edit
For a leg-spin, release the ball simply by(i.e. if you are a right arm, push it from right to left, and a left arm should push it from left to right.
To of-spin
Edit
Push the trigger in the opposite direction of the leg-spin
SUCKERSS
DONT DO THAT OK WITH CRCIKET BALL
FIRST DO THIS TRICK WITH TENNIS BALL :-)
BY:-AHMED ALI